【GROUND CONDITIONS】
1)WATER JETTING UNITS: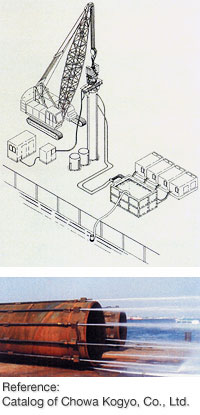 - Indispensable Piling-Support Equipment for Unfavorable Ground Conditions -
When piling jobs have encountered difficulties due to unfavorable ground conditions, the most effective solution is to utilize Water Jetting Units. Water Jetting Units transfer powerful jets of water to the very top of the pile through attached water hose and reduces the frictive resistance of the soil drastically for smooth pile driving & extracting. Water Jetting Units are not only effective for tough ground conditions but also for the tight fine sand or granule sand layer which is difficult to penetrate. Damages of piles and piling machines caused by applying excessive load can be also avoided by using water jetting units. Water Jetting Units are indispensable equipments to help piling equipments to work efficiently under unfavorable ground conditions.

We can supply used & new, Japanese high-quality water jetting units at attractive prices. Our experienced technical staff can visit you for set-up & technical training upon request.
2)PILE DRIVING RIGS & EARTH AUGER:
Hydraulic Pile Driving Rigs and Earth Auger are can exercise powerful piling jobs under unfavorable tough ground conditions.
For details, please refer to the pages of "NOISE/VIBRATION PROBLEMS & SOLUTIONS" of this web site.
We can supply used Japanese pile driving rigs & earth augers at very attractive prices.
3)GROUTING EQUIPMENTS:
- Ground Improvement -
If the ground condition is not hard enough to hold piles firmly, cement grout or chemical grout are to be injected into the ground. There are various types of grouting machines available in Japan from very compact-sized machines for urban job sites to heavy-duty machines.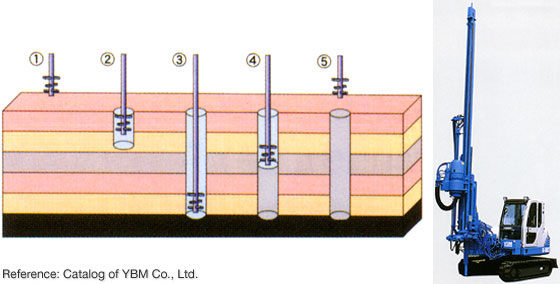 4)PILE DRIVING RIGS:
Pile Driving Rigs can also inject grout into the ground to renforce the ground condition for piling.
For details of the Pile Driving Rigs, please refer to the pages of "NOISE/VIBRATION PROBLEMS & SOLUTIONS" of this web site.

PILING PROBLEMS & SOLUTIONS LIST