1 : CHV Low Headroom Vibratory Pile Driving System
Excavator-mounted Vibratory Pile Driving & Extracting System "CHV" offers efficient pile driving & extracting jobs in low headroom situations and other geographically restricted areas. The Vibro hammer unit of this CHV system is the environmentally friendly super high frequency model which produces minimal vibration and noise to comply with the strict noise & vibration regulation laws for the jobs in urban areas in Japan. Its most unique & exclusive design is the "drum" shaped pile chucking unit which holds the pile and slides it down. This function, which no other excavator-mounted vibrators have, enables the speedy pile driving & extracting operation in the low headroom situations. Three different versions are available:
Model
CHV-200
CHV-300
CHV-400
Sheet Pile
400mm
500mm
500/600mm
H-Beam
250-350
250-400
300-500
Excavator
20t/0.7-0.9m3
30t/over 1.5m3
40t/over 2.0m3
Price
upon request
Manufacturer
Chowa Kogyo Co., Ltd., Tokyo, Japan
CHV can be installed on your existing excavator.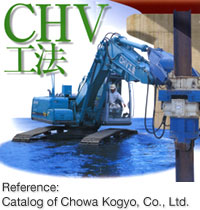 Click to enlarge.

[easy hanging&chucking]
To install the pile into the drum for chucking by crane in open space.

[base-machine moves freely at job-site]
To travel freely to the low headroom job site.

[can work efficiently]
To drive or extract piles efficiently in low headroom situations.
For more details, please refer to the pages of "GEOGRAPHICAL DIFFICULTIES & SOLUTIONS" in this web site.
2 : High Pressure Water Jetting Units
JP Series, high pressure water jetting units produced by the Japan's largest water pump & drilling equipment manufacturer, enable piling jobs under tough ground conditions when used in combination with vibratory pile driver/extractors or the hydraulic pile pressing & extracting machines. Compact design. Low noise. Easy operation by remote control. Adjustable discharge pressure and flow volume. Automatic greasing device for triplex-plungers. Usable for both fresh water and sea water.
Qualified technical staff can be sent for set-up & technical training at charge.

For more details, please refer to the pages of "GROUND CONDITIONS & SOLUTIONS" in this web site.
3 : Ground Improvement Equipments

GI Series, the most powerful and compact ground improvement equipments in the market produced by the Japan's leading manufacturer in this industry, are suitable for soil mixing pile jobs, steel pipe piling and jet grouting. A wide range of models are available to match each specific requirement. Inquiries are welcomed.
(Manufacturer: YBM Co., Ltd.)
For more details, please refer to the pages of "GROUND CONDITIONS & SOLUTIONS" in this web site.

4 : Vibro & Rotary Drilling Machines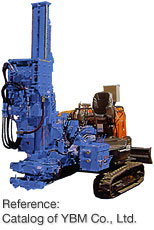 ECO Series is the environmentally-friendly, low-noise, compact drilling machines for investigation of soils and groundwater contamination. ECO Series performs rapid drilling without any percussive metallic noise. ECO Series can be also utilized for core sampling. ECO-7V is actually used for general drilling jobs in urban areas where noise is strictly restricted. There are a wide range of models for specific applications. Inquiries are welcomed.
(Manufacturer: YBM Co., Ltd.)


5 : Sheet Piles & H-Beams
Piling Technologies,Divisin of Team Sunflower LLC,is in close relationship with major mills in Japan and can help you to resolve your difficulties to get sheet piles and/or H-beams with more reasonable prices and delivery.Available sheet piles are U-profile steel sheet piles in width of 400mm,500mm and 600mm.These sheet piles are produced according to JIS(Japanese Industrial Standards).Please refer to the detailed specification date attached below.H-beams are those also complied with JIS(not European standards).Specifications of H-beams are also attached below.Quotatins for sheet piles and/or H-beams are available only upon receipt of your concrete firm inquiry with required specifications,qty,delivery deadline,project details,and other available information.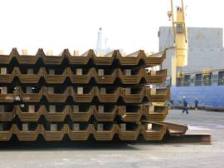 Tokyo Steel U-Profile Sheet Piles
Specifications of Tokyo Steel H-Beams

6 : Ultimate Sheet Piling Interlock Sealant
Piling Technologies,Division of Team Sunflower LLC,can offer you an ultimate sheet piling interlock sealant "PILELOCK" produced by Japanese chemical paints manufacturer.Extreme waterproofing performance of PILELOCK has been proven by the fact that piling job designers and contractors chose PILELOCK for over 50,000 piling projects in Japan last 20 years.PILELOCK is self-swelling,resin-based material which can be pre-painted on the surface of interlocks and expands max 20 times in the water.

Advantages of PILELOCK are:
Max 20 times self-expansion to seal interlocks tightly
Pre-applicable before piling
No extra friction caused for pile driving or extracting
Easily removed after extraction for re-use of piles
Environmentally friendly

Please contact Piling Technologies for detailed information.Agencies are available for some countries.