A SET OF USED & NEW JAPANESE HIGH-TECH PILING EQUIPMENTS WERE EXPORTED TO EQUATORIAL GUINEA IN AFRICA.
For the Quay Construction Project in Bata Port, Equatorial Guinea in Africa, designed by Dr. Niba Boniface Niva ( Designer & General Manager of Studio Niba Techno-Promotion, Firenze, Italy ), Piling Technologies supplied a set of used & new Japanese high-tech piling equipments consisting of 1 complete set of used Hydraulic Pile Pressing & Extracting Machine, 1 used & 1 new High Pressure Water Jetting Systems and 1 used Electric Vibratory Pile Driver & Extracter with Generator. A team of three experts were sent from Japan to Equatorial Guinea for set-up of the equipments and the technical training at the job site.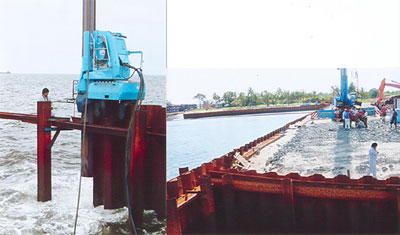 NEWS LIST Click here to see more news.